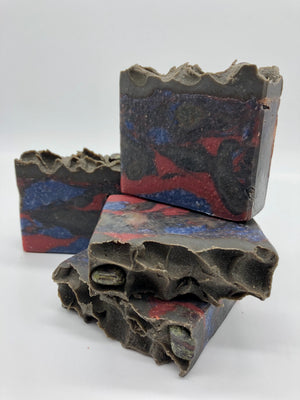 Dragon Slayer Luxury Soap Bar
The day has been long and you've slayed many dragons. Time to take a break from all that dragon-slaying action with this cool scent! Reach for the Dragon's Lair, RICH in earthy whiffs of cedar wood plus patchouli & citrus hints; it will make your skin feel so soft after scrubbing away any dirt or grime on those hard fought battles (you deserve some rest).
You'll be able fight those nasty creatures again without feeling too heavy afterwards thanks this "stapled go-to" that will stick on your body longer than any other perfume or cologne could hope do so while still being lightweight enough not even need an aftershave.
Bar weighs about 5.0 oz.
Ingredients:
Organic coconut oil, (aqua)water, organic palm oil, soybean oil, food grade sodium hydroxide, sweet almond oil, castor oil, fragrance, Hawaiian kukui nut oil, argan oil, organic raw turbinado sugar, Tocopherol-50 (Vit.E), vegetable glycerin, natural oils, plant derived stearic acid, beeswax, activated charcoal, mica, lactic acid, titanium dioxide
* ingredients are sustainable, fair trade & responsibly sourced 
 www.LeiLovely.com