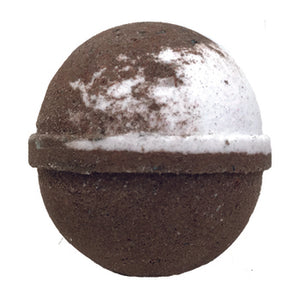 Root Beer Bath Bomb Large 5oz.
This wonderful scentsation will take you back to the days where things were simple. There were sweet treat shops, soda pop on tap, sipping from straws with friends on a day out to the favorite malt shop.
This bath bomb is no different. In fact, it seems to fly right off the shelves by teenagers TODAY! Don't worry though, adults love it too, because it isn't your typical sweet and 'sticky'. Now, you CAN bathe in root beer, float, smell amazing and NOT come out of the tub sticky! Just amazing. You have got to try this one for yourself!
Note: As each of our bath bombs are handmade, appearance may slightly vary. Don't worry, everything else is the same.
5oz = 2.25" Diameter

INGREDIENTS:

Sodium Bicarbonate, Citric Acid, Epsom Salt, Coconut Oil, Phthalate-Free Fragrance, Aqua, Polysorbate 80, FD&C Colorant.


Please note: To keep bath bomb at it's freshest, keep in packaging and/or in an airtight container.