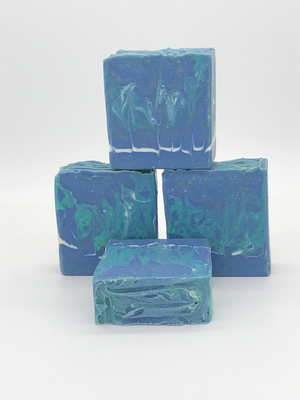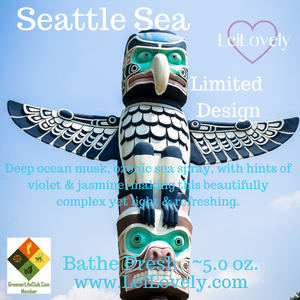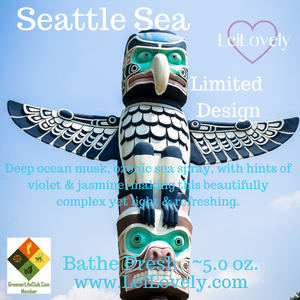 Seattle Sea Luxury Bar Soap
Limited design edition of Seattle Sea    
Contains wonderfully rich, smooth olive oil & cocoa butter. Also features kaolin clay which many say is great for skin! Used for removing excess oils, detoxifying & a natural skin toner. Many say these properties are the most beneficial uses of kaolin clay like contained in this bar. We balance this with nutrient rich ingredients that love your skin like sweet almond oil, vegetable glycerine and cocoa butter. Don't worry, there is no smell of cocoa in this bar!
Bar weight: ~ 5.0 oz.
Scent: As the name implies, there is a lovely clean, fresh ozonic, salty sea spray, enveloping the senses with diving into clean character. Enhanced with subtle nuance of driftwood and sand which rounds out perfectly with almost undetectable traces of violet, jasmine, lily and rose. Don't let the complexity fool you. This is one bar you'll want in your collection. We call it Seattle Sea.

Ingredients:
Organic coconut oil, pure filtered water, responsibly sourced & sustainable organic palm oil, soybean oil, food grade sodium hydroxide,  virgin olive oil, sweet almond oil, fragrance oil, organic cocoa butter, castor oil, organic raw turbinado sugar, Tocopherol-50 (Vit.E), vegetable glycerin, natural oils, plant derived stearic acid, beeswax, fair trade & responsibly sourced micas, kaolin clay, lactic acid, titanium dioxide