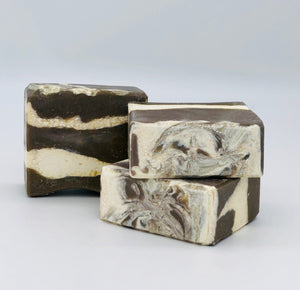 Root Beer
Did you know? In the late 1800's pharmacists began creating different recipe teas for different ailments which some included ingredients like roots and spices, and secret elements. Later, a man named Charles Hires came across one of these recipes, and was so fond of it, that he later packaged it as tea. Charles Hires' tea was such a sensation, the Hires family began selling it in a carbonated bottled version. This beverage is still known today as one of the first sodas ever sold. 
In honor of this now well known "float version", we give you this iconically scented soap known as "Root Beer". This particular soap was a smaller batch in extremely limited supply. So don't wait if you want this one! We don't know when it'll be back in stock! 
About 5.0 0z. May vary slightly.
Ingredients:
Purified water, coconut oil, sustainable and responsibly sourced palm oil, soybean oil, sweet almond oil, food grade NaOH, cocoa butter, fragrance, turbinado sugar, vegetable glycerin, pure vit.E, lactic acid, plant derived stearic acid,  blend of essential oils, sustainable and responsibly sourced mica, titanium dioxide.
Please note: Help keep your beautiful artisan luxury bars at their best, and make them last longest by keeping them dry in between uses by allowing your bars to either drain on a simple soap drain dish, or standing upright in your caddy. As long as it's NOT in a shower puddle, NOT in direct shower stream, it should be fine. 
 With regular every day soap in shower use, our Bars last about a month.