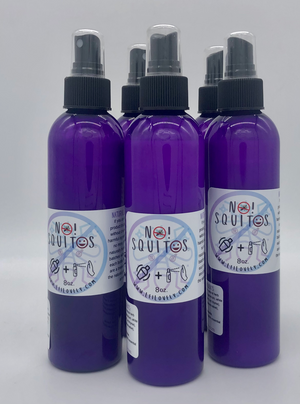 No!Squitos 8 oz. Bottle Individual
If you are looking for a high quality natural mosquito product that actually works WITHOUT chemicals, dyes or harmful ingredients, then look no more. No!Squitos is naturally handmade in small batches with loads of love in each bottle. Featuring natural oils, together assisting in the deflecting those 'squitos'!!  No alcohols to dry skin, no parabins, sulfates or other ugly irritating skin ingredients. ALL of these powerful ingredients jammed into this one bottle are known for their repellant & skin loving properties. We believe once you use No!squitos by LeiLovely, you may never go back to chemicals again! Seriously. And, don't forget the genuine gemstone treasure bead keepsake as a reminder that YOU ARE LOVED.
We highly recommend testing on small patch prior to spraying all over as some people are more sensitive to essential oils than others. If any reaction occurs, discontinue use.
Ingredients: Water, castor oil, herb oils, essential oils including not limited to (bergamot, geranium, white camphor, Japanese peppermint, red thyme)neem oil, ChemConx(natural preservative), Amazonian Andiroba oil. 
Ingredients are organic, sustainable, responsibly sourced. We use 100% essential oils.