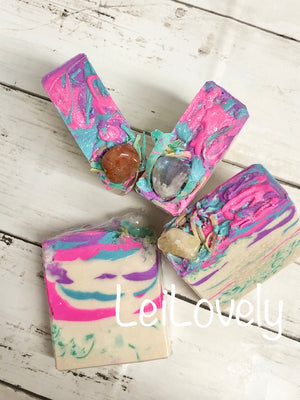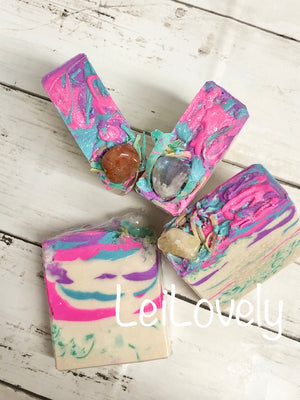 Easter Basket Limited Edition
This extremely limited edition of Luxury Bar soap created by Tanya herself to replicate an expression of the Easter Basket. From the hand shredded soap grass to the nested real gemstone egg on top, no detail was spared handcrafting this special treat for you! Created using organic and sustainable luxurious ingredients like coconut and palm oil, olive, beeswax and pure (NOT diluted) Vitimin E, and vegetable glycerin so you will feel the difference on your skin when you are finished. Rich, creamy lather, and delicious sweet fragrance. You'll feel as pampered as a celebrity in a bath, with LeiLovely's Easter Basket! Hurry, once this yummy small batch is gone, they are gone! 


Each bar is about 5.0 oz.
Ingredients: organic coconut oil, purified water, organic sustainable palm oil, sodium hydroxide(makes it soap), soybean oil, extra virgin organic olive oil, beeswax, stearic acid(vegetable derived), fragrance, raw turbinado sugar, castor oil, sweet almond oil, tocopherol(Vitimin E), vegetable glycerin, other natural essences, skin safe colorants, titanium dioxide and loads of love. Remove keepsake gemstone prior to using. :-)
Want it longer lasting? Simply keep as dry as possible by not allowing your bar to sit in a puddle or steady stream of pouring water. Keep in dry soap dish or standing up between showers and your bar should last much longer. So far on average with care, our customers say their bars are lasting about a month or more.