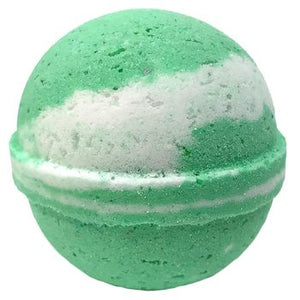 Green Tea Bath Bomb
Looking for a way to relax and unwind? Look no further than our Green Tea Bath Bomb! This luxurious bath bomb will transport you to a spa-like oasis with its soothing green tea and gentle citrus notes of grapefruit and lemon zest.
Plus, the hint of citrus blossoms in the aroma will leave you feeling refreshed and rejuvenated. So go ahead and treat yourself to a little R&R – your body and mind will thank you!
5oz = 2.25" Diameter

INGREDIENTS:

Sodium Bicarbonate, Citric Acid, Epsom Salt, Coconut Oil, Phthalate-Free Fragrance, Aqua, Polysorbate 80, FD&C Colorant.
Please note: To keep bath bomb at it's freshest, keep in packaging and/or in an airtight container.