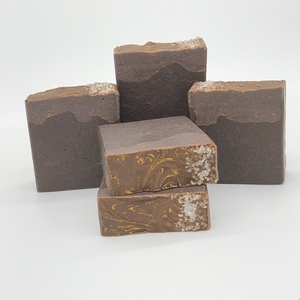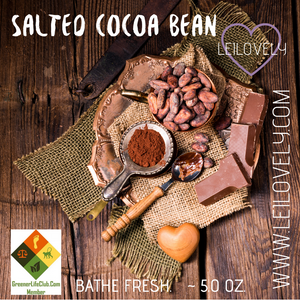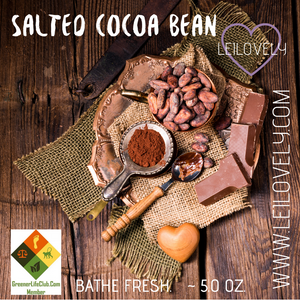 Salted Cocoa Bean Luxury Bar Soap
Dark, rich chocolate, creamy hints of caramel, highlights like cocoa butter, coconut, olive, and sweet almond oils, we think Salted Cocoa Bean Luxury Bar is divine! It's smooth lather will envelop your skin in soft, tiny bubbles that multiply & expand to a long lasting creamy layer, rinsing away leaving a wonderful soft feel from the pure vitamin e and glycerin. We have topped our "chocolate bar" with Hawaiian Sea Salt for a natural exfoliant should you choose to add a body polish to your experience. It's up to you!
Scent: This beauty of a bar smells so delicious, you'll likely want a bite! But it's not for eating, it's for washing. A modern take on an all time favorite, this fusion of delight begins with warm cocoa bean, a waft of caramel, followed by a faint, deeper blend of some patchouli, cashmere woods, coming all together with sugarcane! Mmmm mmm! We hope our unique twist will be one of your favorites as it is one of ours. 
Ingredients:
Organic coconut oil, pure filtered water, responsibly sourced & sustainable organic palm oil, soybean oil, food grade sodium hydroxide, virgin olive oil, sweet almond oil, organic cocoa butter, fragrance oil, castor oil, organic raw turbinado sugar, Tocopherol-50 (Vit.E), vegetable glycerin, natural oils, organic cacao powder, plant derived stearic acid, beeswax, fair trade & responsibly sourced micas, lactic acid, titanium dioxide
Care: Keep bar as dry as possible between uses by placing in a well drained, sturdy soap dish, and not allowing your luxury bar in constant, direct, running shower stream. Do not allow to sit in pool or puddle of water. This will cause your luxury bar to get soft and wear away much faster. Also, if choosing to save your bar, you may choose a container to preserve your scent for longer periods until use. Note: If bar simply sits atop a counter, shelf, or sink top, over time the scent may appear to be lost. it will activate again once wet. With regular use and proper care, our bars last on average about 1 month.