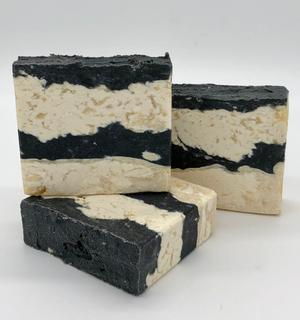 Clean Freak Organic Soap Bar | Leilovely
This amazingly large and long lasting bar is JAM-packed with luxury butters like unscented cocoa butter, mango butter & cold pressed organic coconut oil! Moisturize& detoxify at the same time with exotic butters, activated coconut charcol, and antibacterial essential oils. Eucalyptus-mint scented. Super fresh, clean and fan-diggity-tastic!
Weighs in at a hefty  +/- 5.8 oz. Almost a whole 6 ounces!
Ingredients:
Organic cold pressed coconut oil, sustainable and responsibly sourced palm oil, soybean oil, mango butter, cocoa butter, food grade sodium hydroxide, fragrance, turbinado sugar, vegetable glycerin, pure Vit.E, lactic acid, Hawaiian kukui oil, beeswax, plant derived stearic acid,  activated charcoal, blend of essential oils including but not limited to: eucalyptus, tea tree oil, spearmint, myrrh, & more.
Please note: Help maintain your beautiful, artisan luxury bars in their prime. Keep dry in between uses by allowing your bars to either drain on our soap savers, a simple soap drain dish, or standing upright in your caddy or shower ledge. Make sure to keep out  of shower puddle, direct shower stream.
 With regular every day soap in shower use, our bars last about a month or more.