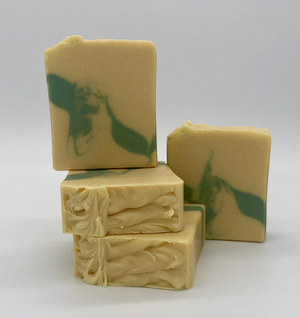 Peace Luxury Soap Bar
Whether you need a getaway, or just a beautiful scent & feel, Peace luxury soap bar will take you there. This one wraps your skin in a smooth, rich lather, while letting your mind take a walk through a fresh morning's forest of gentle, refreshing hints of neroli blossom, mandarin, lemon & bergamot. Plus, we super powered this one with sweet almond oil, Hawaiian kukui nut oil, Moroccan argan oil and fresh cold pressed organic coconut oil. When you need a little peace, this one's your bar.
Bar weight: ~ 5.0 oz.
Peace Ingredients: Organic coconut oil, (aqua)water, organic palm oil, soybean oil, food grade sodium hydroxide, sweet almond oil, fragrance oil, Hawaiian kukui nut oil, argan oil, castor oil, organic raw turbinado sugar, Tocopherol-50 (Vit.E), vegetable glycerin, natural oils, plant derived stearic acid, beeswax, mica, lactic acid, titanium dioxide
* ingredients are organic, sustainable, fair trade & responsibly sourced 
USE: simply, combine with water, lather and use. Once opened and in use, your bar will last about a month or so depending on whether you:
CARE: keep it out of direct water stream, puddles or in constant splash zone. We put extra love and care into giving you the utmost in luxurious ingredients that do more for your skin than just wash it. If you care for your bar, it will take care you for much longer. Bar fragrance lasts about a year once purchased, if left unused. While the soap itself is technically 'soap' almost indefinitely, the fragrance will fade over time.