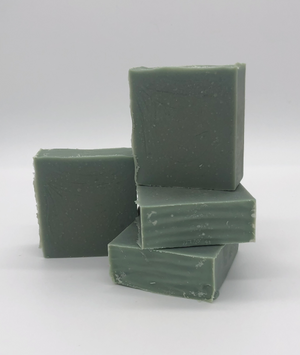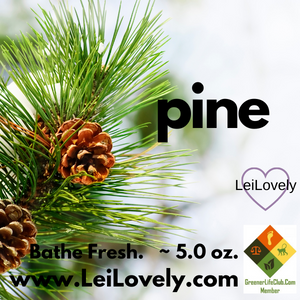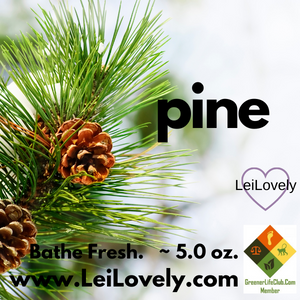 Pine Luxury Soap Bar
Maybe you love the smell of nature in the morning walking through the balsam forest. Or, maybe you don't want to smell 'girly'.  Look, we got you. Whether you're looking for that year round scent different from the rest or a yearly wintertime goody, we present to you, LeiLovely's Pine Luxury Soap Bar. Smells just like fresh pines, but not so overpowering that your nose falls off. This baby will help quench your dry skin with luxury oils like shea butter, olive oil and sweet almond oil. Not to mention Vitamin E, glycerin, you get it, there's some GOOD STUFF in here! Nicely muted natural green hue, lathery smooth perfection. 
Weighs +/-  5.0 oz. with NO tapered edges. Freshly cut just like a tree.
Ingredients: Organic coconut oil, (aqua)water, soybean oil, organic palm oil, food grade sodium hydroxide, organic shea butter, organic cocoa butter, sweet almond oil, castor oil, fragrance, organic raw turbinado sugar, Tocopherol-50 (Vit.E), vegetable glycerin, beeswax, stearic acid(vegetable),titanium dioxide, natural oils, mica, lactic acid
* ingredients are sustainable, fair trade & responsibly sourced
note: Bars last about a month with normal everyday use. To keep soap best, avoid allowing it to sit in pooled, puddled or direct stream of water. This will wear away the beautiful luxury ingredients you just bought! You can further prolong use by buying a soap lift. Perfect for airing out your soap between uses in your shower.