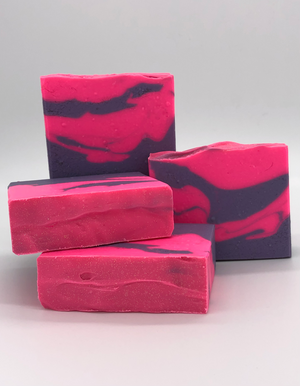 Pink Magic Luxury Soap Bar
This bathing beauty came about to accompany our jumbo bath bomb by the same name. It is alluring, exotic, sweet, soft, divinely delicious and unisex as well!
Featuring the exotic combination skin adoring oils like Hawaiian Kukui Nut oil, and Moroccan Argan oil. Not to mention the sweet scents night blooming jasmine, clary sage, ylang ylang. 
Be forewarned, once you try this one, you'll likely use it again and again! No really. 
Weighs at least 5.0 oz.
Ingredients:
Organic cold pressed coconut oil, (aqua)water, soybean oil, organic palm oil, sweet almond oil, food grade NaOH, fragrance, turbinado sugar, vegetable glycerin, pure vit.E, lactic acid, Hawaiian kukui oil, Moroccan argan oil, beeswax, plant derived stearic acid,  blend of essential oils, sustainable and responsibly sourced mica.
*all ingredients are sustainable and responsibly sourced.
Please note: Help keep your beautiful artisan luxury bars at their best, and make them last longest by keeping them dry in between uses by allowing your bars to either drain on a simple soap drain dish, or standing upright in your caddy. As long as it's NOT in a shower puddle, NOT in direct shower stream, it should be fine. 
 With regular every day soap in shower use, our Bars last about a month.