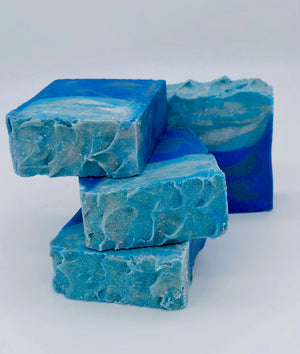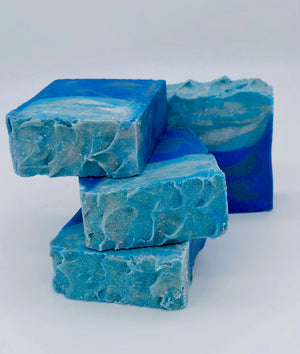 Wavy Waters
Cool and refreshing with hints of amber in fragrance. This lovely bar features gorgeous hand poured hues of blue emulating water and waves while still showing off simplicity in design. Often compared to a very popular fragrance. If that sounds nice, wait till you smell it! Each batch is created with love and uniqueness each their own, so every bar may differ slightly in appearance which makes it all the more desirable. Excellent lather, rich fragrance and long lasting.
Each bar weighs about 5.0 oz.
With regular every day soap in shower use, our Bars last about a month.
Ingredients:
Organic coconut oil, organic palm oil, (aqua)water, soybean oil, food grade sodium hydroxide, sweet almond oil, castor oil, fragrance, organic raw turbinado sugar, Tocopherol-50 (Vit.E), vegetable glycerin, beeswax, stearic acid(plant),Hawaiian kukui nut oil, argan oil, natural oils, mica, lactic acid, titanium dioxide
Please note: Help keep your beautiful bars at their best, and make them last longest by keeping them dry in between uses by allowing your bars to either drain on a simple soap drain dish, or standing upright in your caddy. As long as it's NOT in a shower puddle, NOT in direct shower stream, it should be fine.